Washrooms or work of art?
6/21/2022 12:00:00 AM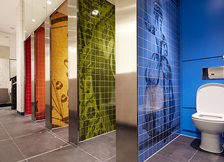 A bespoke blend of Classic Cell doors and Primo Kn partitions was specified at the prestigious Victoria and Albert Museum, London. Our cubicles were specified in full height, floor to ceiling with a bulk head over panel. The door fronts in a brushed stainless steel giving a high quality finish.
The male and female washrooms are a small space but as you can see from the images, our products are totally bespoke and create a luxurious, unique and classic feel throughout.
Each cubicle has been uniquely tiled featuring memorable artwork to carry through the theme of the museum into the washroom.
See more.