Did you know we also provide Baby Change Units?
4/22/2021 12:00:00 AM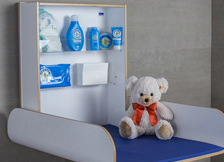 KEMMLIT UK have a wide range of baby changing units to meet all your commercial needs. Suitable for restaurants, retail centres, sports centres and all other public areas, they provide easy and hygienic baby changing. KEMMLIT baby changing units combine innovative design and safety features, enhancing any washroom whilst providing the ultimate in durability. All comply with the latest 2013 BS EN safety standard.

Made from water-resistant HPL with plenty of room in the cupboards which come either with drawers or open compartments.
The modular construction allows individual adaptation to suit the situation in the required area. Safe due to the surrounding anti-fall guard. Comfortable due to the integrated jointless baby bath tub, made from robust mineral composite material which never feels cold, where you can also shower infants - also available with a wash basin.
As an option, the drawers can be locked centrally with a rotary knob on the rear edge. As a special highlight, you can get the baby changing combination with pull-out steps - either straight or as a spiral staircase - convenient for the little ones.

These larger units are part of the Bambino Range or we also offer a huge range of individual change units.
KEMMLIT provide individual consulting services provided by highly-trained specialists and user-specific solutions worked out by trained engineers.