INTRODUCING: KEMlight
10/12/2023 12:00:00 AM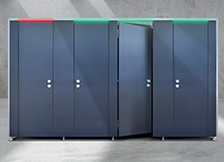 Introducing PRIMO F KEMlight, a partition system with integrated LED free/occupied indicator. This is not only practical, but also a real eye-catcher in the washroom.
PRIMO F KEMlight impresses with its smooth and high-quality appearance, its stable and durable construction and its comfortable soft-close closure. The surfaces are optionally antibacterial and equipped with an anti-fingerprint function. The LED display can be easily and individually controlled using an app and adapted to the building's opening times.

The special version with LED free/occupied display sets an absolute visual highlight in the design of the washroom and offers additional functions for every user to be able to distinguish between a free and an occupied cubicle at a glance.

The power connection is made using a simple 220v plug, on the inside of the wall and is connected to a standard on-site socket.