5 tips for the perfect children's washroom
4/22/2021 12:00:00 AM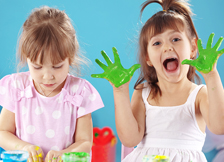 Children need to feel comfortable in order to be able to conquer the washroom all by themselves, safety comes first. We know that promoting the independence of children, especially in this area is very important.
Our 5 tips to create the perfect washroom for the youngest target audience:
1. Safety is the top priority: thoughtful details at all critical points reliably prevent any risk of injury. Therefore, you should pay attention to finger protected, rounded corners and tested materials. The requirements of the GUV must be adhered to.
2. Child-friendly colours and shapes: A coordinated and friendly colour concept should be taken into account in the planning. Colours are not only clear and friendly, but also make it easier for children to find their way around.
3. Pedagogical concepts: In order to reduce the children's fear of going to the toilet, pedagogical concepts should also be considered. With the help of digital prints and grip worlds an exciting design is possible. Such theme worlds support pedagogical concepts that children can then playfully experience.
4. Products of the highest quality: Not only the GUV requirements are important in the planning. High-quality products with TÜV certification or even with a guarantee promise are advantageous, because durable products are just as important. 
5. Complete room solutions: Optimally coordinated and tailor-made individual products - partitions, washing stations, winding combinations, shelves, shelves, potty benches and special furniture guarantee a harmonious overall effect with a long service life - therefore, consider everything as a complete package from one manufacturer.