The NEW cost-effective glass cubicle is here!
4/22/2021 12:00:00 AM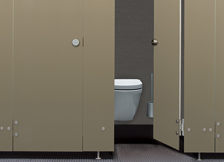 KEMMLIT have just announced the launch of a new, cost effective glass cubicle system - the NOXX Smart.

The door and panel elements consist of 10 mm thick toughened safety glass which provides a stunning, easy to clean and maintain flush surface.

The single hand turning knob has been crafted in high quality aluminium to complement the clean smooth lines of the system.

In addition, an innovative 3-roller edge hinge with a stainless steel axis has been specially developed for the NOXX Smart enabling the door to have a quiet, luxurious soft close function, normally only found in high end systems.

The aluminium supporting legs are adjustable in height and position and the flexible framework that secures the glass panels also allows for ease of installation.

With a palette of 13 colours to choose from, the new NOXX Smart cubicle system will maintain its good looks and functionality in a range of demanding environments.

The NOXX Smart from KEMMLIT UK is part of a comprehensive range of high performance cubicle and locker systems designed and engineered for a wide range of applications and environments.
 
KEMMLIT provide individual consulting services provided by highly-trained specialists and user-specific solutions worked out by trained engineers.