Why are Z Shape lockers so popular?
3/25/2021 12:00:00 AM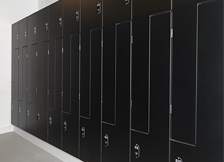 We have seen a huge increase in demand for our Z shaped lockers recently. Mainly due to their space-saving ability.
Z shaped lockers are an intuitive locker design. They allow for space to hang clothing in addition to general storage.
Any of our lockers can be created into Z shaped lockers. We have a wide range suitable for wet and dry areas. They are also available in a huge range of colours and finishes.
Ideal for for changing rooms, gyms, employee changing areas and schools.
You can also choose from a range of locking solutions to suit your needs.