Material Selection for Washroom Cubicles
3/8/2018 12:00:00 AM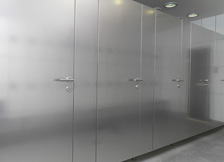 Washroom design is more than just specifying fixtures and finishes, it requires careful planning and the appropriate selection of materials. This will ensure that any project is functional, durable, and aesthetically pleasing to the client as well as the end user. Cubicles are manufactured using a wide range of high quality and durable materials, including glass, steel, aluminium and laminate. These must be carefully selected to provide an array of surfacing solutions depending on the individual project requirements to achieve outstanding performance and longevity. Functionality, safety and durability are also key factors when choosing material type with strict quality inspections a necessity for any manufacturer.
Washroom cubicle systems essentially consist of the panels. The panels can be constructed from various materials, to different thicknesses and include materials: Metal (broken down into Steel, Aluminium and Stainless Steel), Melamine chipboard, Solid Grade Laminate and Glass.

Metal Washroom Cubicles
Metal systems are normally manufactured in a sandwich construction of 42mm or 30mm thick panels and are suitable for high impact use.
Manufacturers should also be able to provide variants that can be included within the construction of the sandwich, such as inserts for extra strength where coat hooks or toilet roll holders need to be fixed.

Extra durable panel versions also exist, where 6 or 8mm chipboard is included within the core to give extra rigidity.

There are also other industry options, such as the use of metal substrate baffles, which might be required in airports or other public buildings, in line with non-combustible product regulations.
Some typical installations using this system would include public buildings such as The Tate Modern.

Melamine Chipboard Washroom Cubicles
Melamine chipboard is typically a 30/38mm thickness, moisture resistant high density chipboard. The edges on this would normally be a 2mm ABS lipping. This should not be used in a wet environment, as it will expand if there is water ingress between the lipping and the board; whereas other materials are suitable for wet areas, such as showers and swimming pool environments.

Typical locations of these Melamine Chipboard cubicles are also leisure or commercial environments, such as the new Grandstand at Cheltenham.
 
Solid Grade Laminate Washroom Cubicles
Solid grade laminate is referred to in many ways: compact, compact grade laminate, solid phenolic laminate or high pressure laminate.

The manufacturing process typically involves bonding 70 sheets Kraft paper under pressure with phenolic resins added. The top and bottom layers are a decorative melamine, which form the end pattern and colour of the sheet.
The overall panel thickness is determined by the amount of Kraft paper used. Normal panel thickness is 12/13mm, but can go up to 20/30 or even 40mm – used in environments such as laboratory worktops and also cladding of buildings. Can also be included as a composite panel.
Typical installations would include leisure centres, prisons, high usage school areas, universities.
Glass Washroom Cubicles
If we now look at glass, there are typically two systems, silk screen printed, and laminated glass, and these generally come in 8 to 10mm thickness and are toughened safety glass.
Glass cubicle system dimensions need to be very accurate for installation, as panel size and drillings for fixings need to be factory completed; however manufacturers can offer combination solutions, such glass doors with solid grade laminate pilasters and partitions as seen here.
This is often a popular option for an aesthetic look within a budget. Full glass tends to perceived as 'designer' level, so is often used in higher end solutions.
View our Noxx Smart glass cubicle range here.