Classic Cell Cubicle at Oxford Science Park
3/21/2019 12:00:00 AM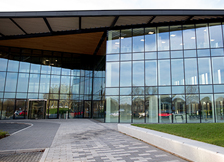 Located just four miles outside the City of Oxford, is one of the UK's leading centres for growth in research-led employment, and Oxford's most dedicated location for success.
This foundation gives businesses wishing to start, grow or locate to Oxford an exciting advantage. Many sectors succeed in the area in particular including life sciences, computer science, energy, creative and digital, automotive and motorsport and space technology.
The Classic Cell cubicle was specified for washroom facilities within the building on the third floor and the shower cubicles on the first floor. These cubicles were specified in aluminium but are also available in steel or stainless steel and in a variety of colours.

Full height from floor to ceiling and finished in classic white, the cubicle system complements the overall design, provides an elevated level of finish and ensures consistent product performance. 

The doors and pilasters are perfectly integrated into the washroom thanks to a shadow gap connection to the ceiling, walls and floor.

Watch the Classic Cell Cubicle video here.
Download the Classic Cell Cubicle brochure here.